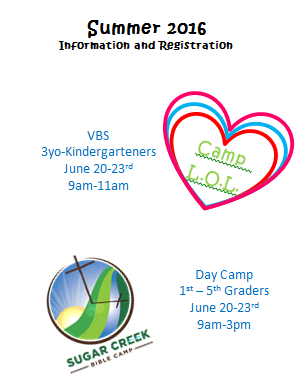 Registration forms are now available for VBS (PreK-K) and Day Camp (1st-5th grade) this summer!  Please return completed forms by June 5th to help staff plan adequately.
VBS for PreK-K children will meet in the mornings from 9am – 11am.  The theme for VBS this summer is "LOL" Love our Lord.
Day Camp for 1st -5th graders are invited to join Sugar Creek Day Camp Counselors from 9am to 3pm. Sugar Creek's theme this summer is "The Jesus Way".
VBS: Camp LOL – Love Our Lord or Laugh Out Loud – either way, VBS will be a fun time of learning about the amazing love God has for us, ways we can share that love, and the joy that love should bring us and can bring to others!  VBS children will explore how they can care for others, forgive others, serve others, and of course, LOVE others.  Children should come to VBS in clothes to play in and with sunblock already applied.  We hope to enjoy God's creation during our time together and crafts may be messy; so please keep that in mind when dressing your child each morning! Details and registration information are found here.
DAY CAMP: The Jesus Way – youth who attend will be outside enjoying God's creation, so please make sure the clothes your child wears are ready for outside play.  Please send along labeled sunblock with your child (because of allergies, sharing of sunblock is discouraged).  The Theme Verse for Day Camp is found in Ephesians 5:1-2:
Therefore be imitators of God, as beloved children, and live in love as Christ loved us.
Youth will explore "Feeding", "Forgiving", "Loving the Neighbor", and "Serving Humbly" as ways to live as Jesus taught us. Youth will engage in devotions, crafts, small group activities, worship, special events, and Bible studies that all help them to learn how to be imitators of Christ's example. Details and registration information can be found here.
Youth do not have to be members of ELC in order to participate in VBS or Day Camp. All youth who are within the age group and are "potty trained" are invited to attend.
We request registration by Sunday, June 5th. If you miss that deadline, please submit your registration ASAP!  Please ensure your cell phone and email address are listed on the forms in case you need to be reached for last minute changes or emergencies.
If the cost of camp is an issue for your family, you are still invited to attend – just submit the forms with whatever you can afford.
These camps only happen with volunteers from our community, so please check out the Adult Registration Form 2016. You do not have to have a child in the programs to volunteer.
Day Camp loves to have people from our community come in for an hour in the afternoon and share their skills, passions, and/or hobbies. So if pottery, yoga, woodworking, or etc. is part of your life, please consider sharing it with the youth of Day Camp.
Questions can be addressed to Jen at church either by calling 437-5012 x2 or emailing her at Jen.Kooistra@ELCMtHoreb.org