All are welcome to join us for worship! Click HERE to find out more about worship this weekend at ELC including bible study and conversation starters for the upcoming week related to the scripture passages read in worship.
---
SATURDAY EVENING WORSHIP
5:00 p.m.
Modified Traditional Worship

A modified traditional worship service; generally less that 45 minutes.
We gather in the smaller chapel on the Front Street side of the building
SUNDAY MORNING WORSHIP
8:30 a.m.
Traditional Worship
We gather in the main sanctuary for liturgical Lutheran worship,
accompanied by the pipe organ and featuring our excellent  choir.
9:30 a.m.
Education & Fellowship
Sunday School Classes for children,  Bible study for adults,
and coffee fellowship in our fellowship hall.
10:30 a.m.
Contemporary Worship
Led by our Praise Team, we share contemporary Christian music,
God's Word and prayer in the sanctuary.
Communion is celebrated at all services on the first and third Sundays of the month,
and the preceding Saturdays.
---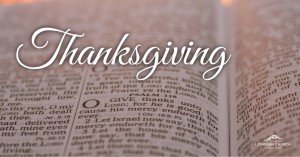 Thanksgiving Week Worship: Worship with us as we give thanks this coming week:
Sunday, November 18 – 7:00 p.m. – Community Ecumenical Thanksgiving Service
at Mt. Horeb First United Methodist Church
Thursday, November 22 – 10:00 a.m. – Thanksgiving Morning Worship Service
here at ELC will include readings, scripture, hymns, and our choir.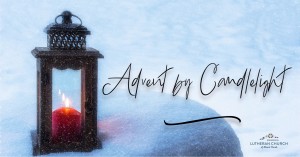 Advent by Candlelight: Join us on Wednesday, December 5 at 7:00 p.m. as we gather for a dessert potluck (bring a favorite dessert to share) and candlelight worship as we enter the season of Advent.  Come and learn about Advent candles while making your own handmade set to take home for your family. All ages are invited and welcome as we encounter Advent, share in fellowship, and accompany one another in the art of candle making to take home something to encourage your prayer each day in advent.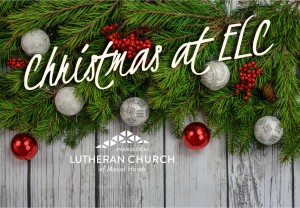 Christmas at ELC: All are invited on Sunday, December  9 at 5:00 p.m. as we gather for our annual concert and chili supper. Concert begins at 5:00 p.m. and the chili supper will follow at 6:00 p.m. A freewill offering will be taken benefiting the Mount Horeb Area School District's weekend meal program.