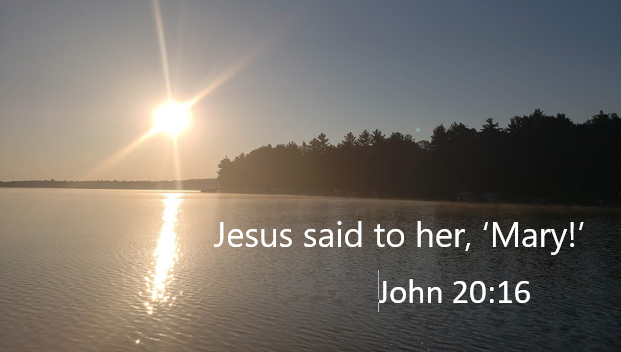 It was Mary Magdalene who wept at the grave, and Mary who would tell the others "I have seen the Lord".  She reminds of the reality of death and grief, but also the possibility  of encountering life again.
Worship this week:
Saturday – 5:00 p.m. in the chapel
Sunday – 8:30 a.m. Traditional Worship
10:00 a.m. Contemporary Worship
Devotions for this week:  Mary Magdalene
SHARE:   What was a high point of your day? What was a low point?
 READ: Read the following daily readings to deepen your understanding
Sunday, Luke 8:1-3  Mary and the others accompany Jesus
Monday, Matthew 27:51-61  Mary at cross and burial
Tuesday, Matthew 28:1-6  Easter morning
Wednesday, Mark 14: 40-46 Mark's Good Friday account
Thursday,  Mark 15:1-6  Mark's Easter account
Friday, Luke 24:5-12  Mary among first witnesses
Saturday,  John 20:11-18  Mary meets the risen Christ
 TALK:  Consider some of these ideas
14When she had said this, she turned round and saw Jesus standing there, but she did not know that it was Jesus. 15Jesus said to her, 'Woman, why are you weeping? For whom are you looking?' Supposing him to be the gardener, she said to him, 'Sir, if you have carried him away, tell me where you have laid him, and I will take him away.' 16Jesus said to her, 'Mary!' She turned and said to him in Hebrew,'Rabbouni!'   John 20:14-16
All four gospels mention Mary Magdalene's presence at the cross and the empty tomb, and she is also reported to be the first to share the news of the resurrection.
Mary is among those who provide for the disciples – do we still provide the necessary support for ministry?
How important is it for someone to call you by name? Do you take the time to learn the names of those you encounter?
Mary shares the good news, even when the disciples are skeptical. Can we persevere in telling what we have seen God doing?
 PRAY:  Resurrecting God,  You call us by name and send us forth to tell the Gospel story. Give us open ears and willing hearts to both hear and speak the truth about the resurrecting love of Jesus Christ, our Lord. Amen
 BLESS:  May God open your eyes to see the risen Christ!